Conference support – Friesland Campina
Congres support Royal FrieslandCampina 2016, 2017 & 2018 Since 2016 we have the pleasure of providing conference support to Friesland Campina for the annual international meeting for Corporate IT. Together with employees of FrieslandCampina and the team of Prodentfabriek, we manage to raise the bar a bit higher and inspire the employees of Corporate IT […]
Congres support Royal FrieslandCampina 2016, 2017 & 2018
Since 2016 we have the pleasure of providing conference support to Friesland Campina for the annual international meeting for Corporate IT. Together with employees of FrieslandCampina and the team of Prodentfabriek, we manage to raise the bar a bit higher and inspire the employees of Corporate IT Netherlands and Asia.
The Conference for Corporate IT of Friesland Campina can be summarised in a few words: Spectacular, compelling, energetic.
Event services:
Brainstorming with the event professionals
Live stream with Asia
Technical control
Content guidance
Arranging Hybrid event tools
Conference support
Support during event via technicians and runners
Delivery of video compilation of the event
Use of interactive tools for higher involvement of participants such as online- and QR code games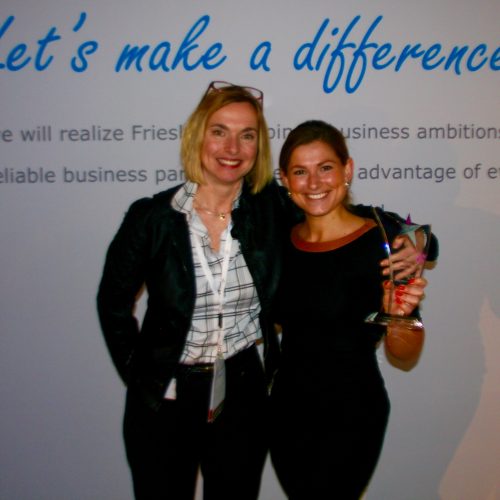 It is rare to be able to cooperate with such a skilled and professional company! Wiebe and his team have lifted the staff event of FrieslandCampina to a higher level.
From the first contact they gave us input on how we could turn the event into a success. On the day itself everything went smoothly thanks to the deployment of a strong team, good communication and the right resources. I have experienced the cooperation as personal and professional. Business Event Group may rightly call itself a true specialist in the field.
Day chairman Boom Chicago
The host and day chairman Pep Rosenfeld from Boom Chicago brought the house down within 1 minute! Content in combination with a laugh guarantees success.