Car Introduction show Provided services: Concept creation, technology and associated control, show lighting, stage-hands. For the launch of a new Seat model, an introduction show was organised in the Prodentfabriek in Amersfoort. During the preparation stage and the event itself we cooperated on this launch for all Dutch dealers. Co-creation During the preparation stage there […]
Car Introduction show
Provided services: Concept creation, technology and associated control, show lighting, stage-hands.
For the launch of a new Seat model, an introduction show was organised in the Prodentfabriek in Amersfoort. During the preparation stage and the event itself we cooperated on this launch for all Dutch dealers.
Co-creation
During the preparation stage there were various brainstorming sessions to design the show. The basic idea was to present the car in an industrial/urban setting with a striking show to all invitees. Artists were hired, show lighting and technology was designed and the overall course of the evening was created. Further fine-tuning and the upscaling of a very experienced director made the event complete.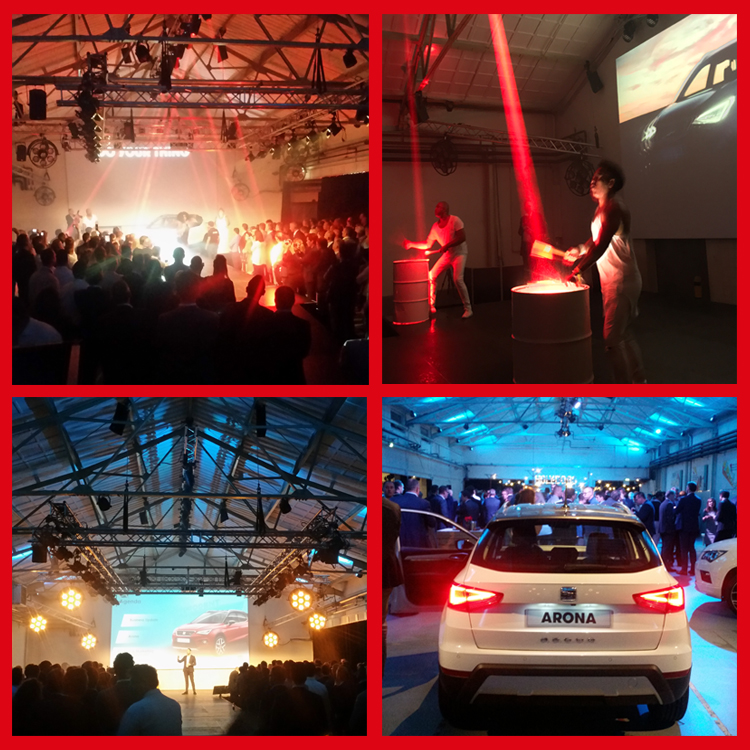 Creation
Which resulted in a spectacular introduction show. With a literally splashing (water) drum act and dancers, the car was escorted over the catwalk. Images of the upcoming advertisement campaign were shown in the background to reinforce the feeling with the car and the show. In addition, the associated campaign music was played so the entire audience could swing along. After a presentation of the importer with respect to figures and data about the new model, the car was escorted to the catering part of the room. Here the guests were able to discuss and admire the new model while enjoying some snacks and beverages.
Technology
The technology was perfectly organised by AV Brothers. The introduction was decorated with spectacular images, sound and time-set lighting show. To support the industrial theme, honeycomb lamps were used, among other things. In addition, there were several stage-hands present to support the show and to safely guide the car through the curious audience.